Everything you're looking for in GRC Software, including the fun factor
TOP FEATURES FOR ENTERPRISE RISK MANAGEMENT:
Try it yourself for 30 days free of charge, no strings attached
Risk Management and Strategy: A Golden Combination
The feature Strategy & Performance offers the possibility to report your strategy and management in a clear way. What is unique about this feature is the possibility to link risks directly to the strategic goals. This is the ideal way to efficiently carry out your tasks as a controller.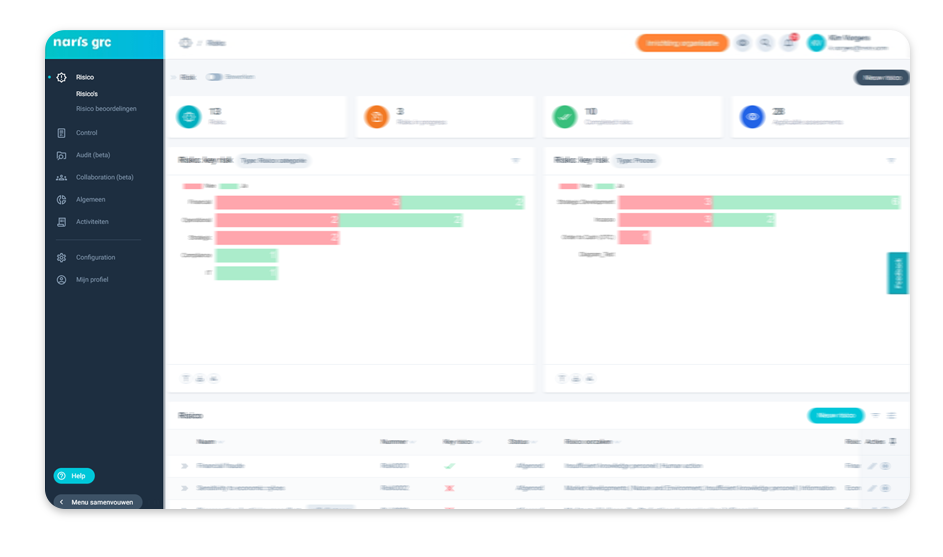 An Overview of Your Strategy
A strategy written down on dozens of pages often fails to catch on with management. Stop using thick documents and present your policy and investment plans in a clear way – thanks to the strategy map. Thanks to NARIS Next, you can record various strategies and management models (INK, BSC, A-3) in a single overview, which is convenient for presenting important results of risk analyses
Your Strategy & Risks at a Glance
Once the strategy is defined in the strategy map, it is possible to link the existing risk profiles to the goals or activities for achieving the goals. Again, the choice for extensive Excel files is often not the right one. Use the risk strategy map to create insight in those activities that have no risks, but also in risks that cannot be linked to the strategy.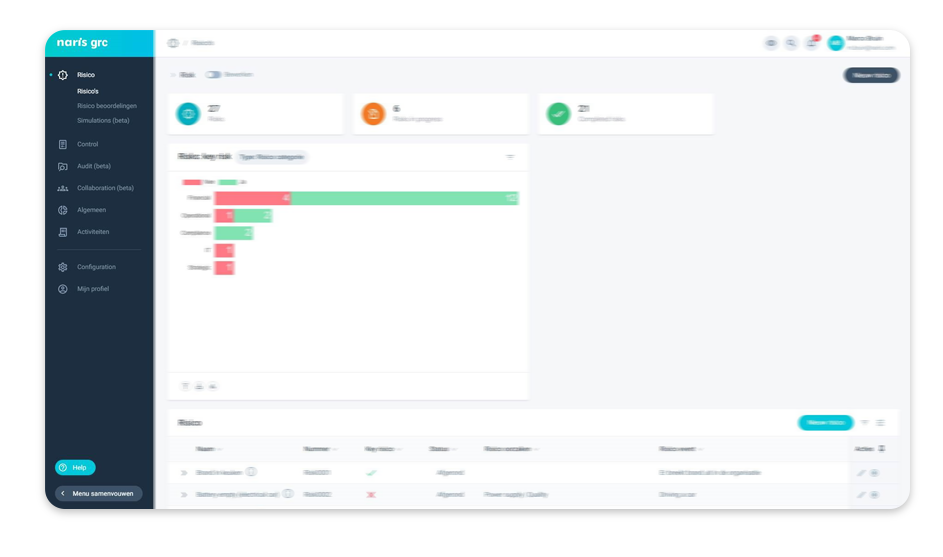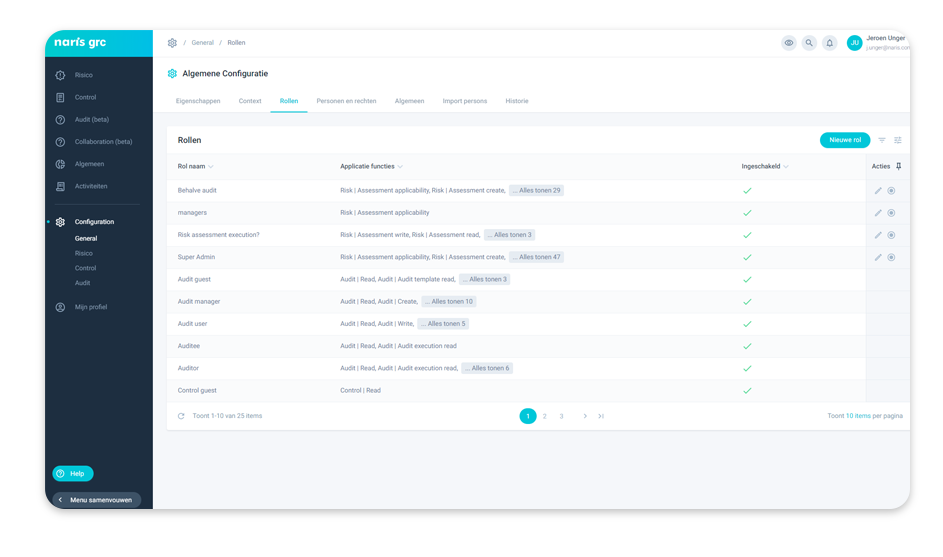 The exemplary behaviour of the management is crucial to let risk management live in your organisation. By conducting a strategic risk dialogue with the strategy map, focus is created. The willingness to take risks is central to this. It is about how much risk people are willing to take in order to achieve the goals.
From Operational to Strategic Risk Management
In practice it is difficult for risk managers to get involved in strategic risks. In many cases the attention is more on the operational risks. After all, these are tangible and concrete. NARIS Next offers features to reach a higher level and to hold the attention of top management.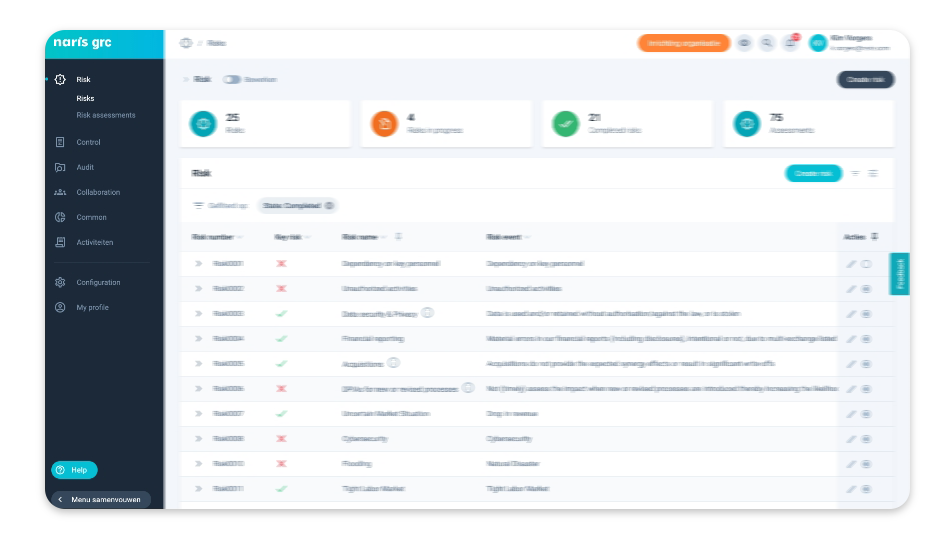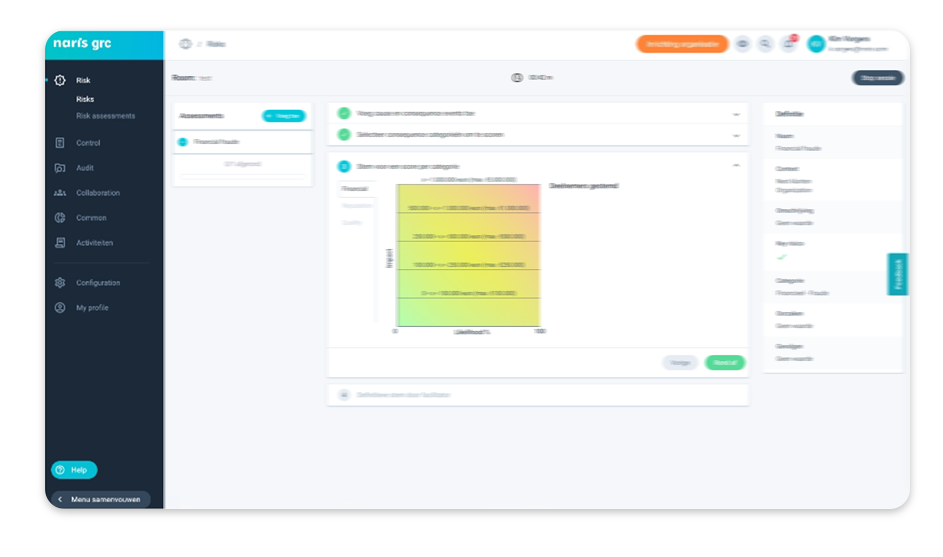 Perform Your Own Scenario Analysis
You don't need to be a statistician or mathematician to perform scenario analyses. You can calculate the strategic and external risks yourself using our tooling. In this way the consequences, both financial and in terms of impact on the continuity of the business, become tangible. This can be done, for example, by carrying out a Monte Carlo simulation with our software.
Try it yourself for 30 days free of charge, no strings attached