Everything you're looking for in GRC Software,
including the fun factor
TOP FEATURES FOR RISK & CONTROL MANAGEMENT:
Try it yourself for 30 days free of charge, no strings attached
Risk Control: The Solution on How to Set Priorities in Risky Businesses
A risk manager (controller) has become indispensable in this VUCA1 world for high-risk organisations. The rapidly changing, uncertain, complex and sometimes ambiguous reality of today provides the necessary challenge. NARIS® Risk & Control Management is the solution for setting priorities well. It provides overview and offers information for risk-based decision making.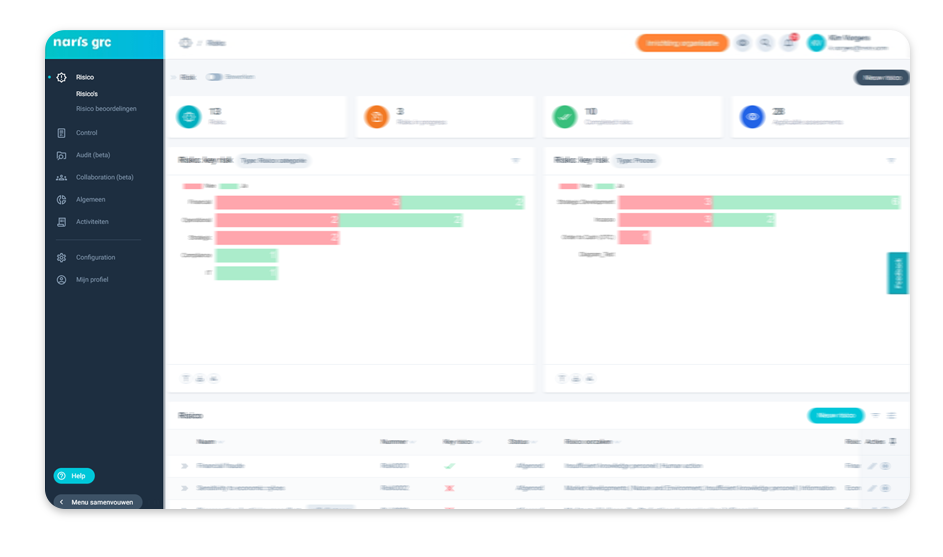 Keeping Risk Management Alive
Organisational leadership, stimulating improvements and innovation – these are three important topics for the Executive Board. Management no longer feels supported by "lists of risks". Support the organisation in establishing risk controls independently – without taking over the administration – through the implementation of risk assessments. Add value to the risk management by extracting the key risks from these risk assessments.
Give Substance to your Risk Model
Whether it is COSO, ISO31000, ISO27001, MOR framework, Kaplan, or another risk model; every risk model has specific characteristics. After choosing a model it's time for action. Therefore, incorporate the model in a GRC tool. This will facilitate the organisation with one central knowledge base in which all risk management process steps can be completed.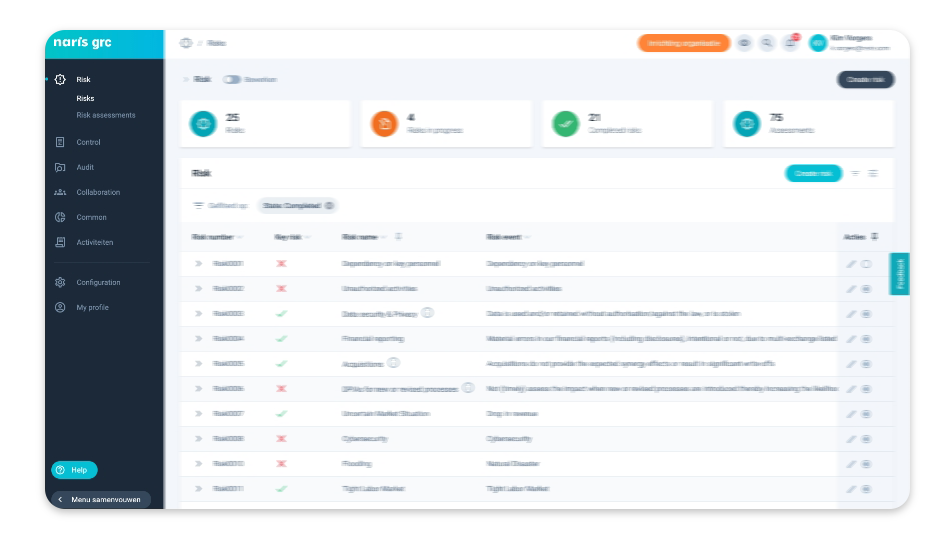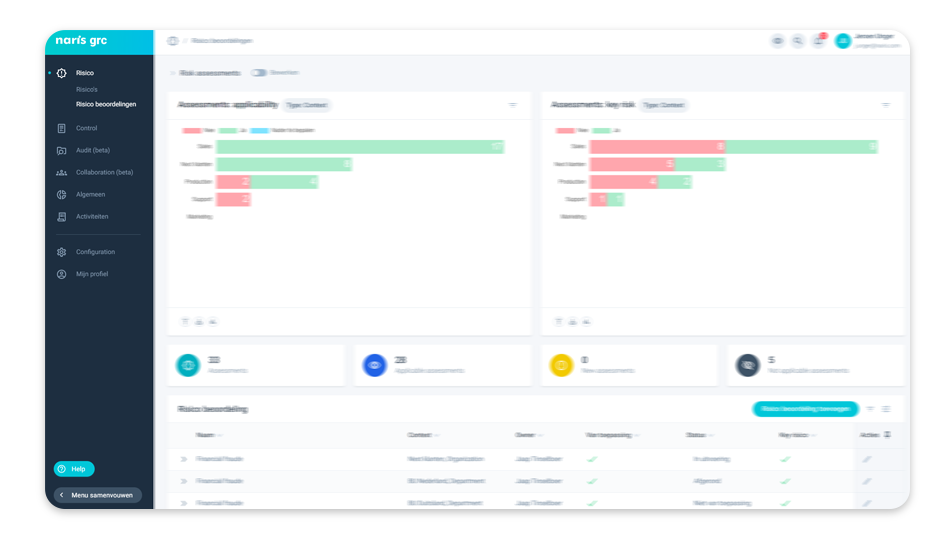 Positioning of Risk Management in the Second Line of Defence
As a risk manager you are not alone. Besides you there are business controllers, privacy officers and CISOs who also have a role within the risk management team. But who monitors the overall picture within your organisation? The feature Risk & Control Management offers the solution that can be used by all risk specialists and automatically gives you an integral role. This way you have a clear overview of the risk management in the second line of your organisation.
The Watermelon Model as an Integral Dashboard
The quality of the operational risk information provided by the organisation is often insufficient. This means that afterwards you are the one who has to make something reasonable out of the insufficient input. The watermelon model is a new risk model designed by NARIS that requires managers to declare risks applicable and to assess whether they are in control. It provides an integral dashboard of the riskiest processes, projects and/or departments.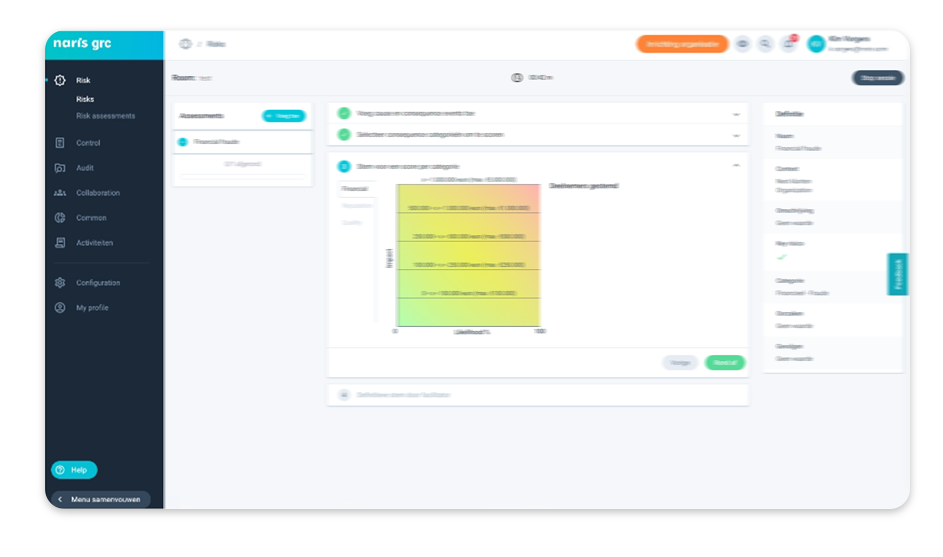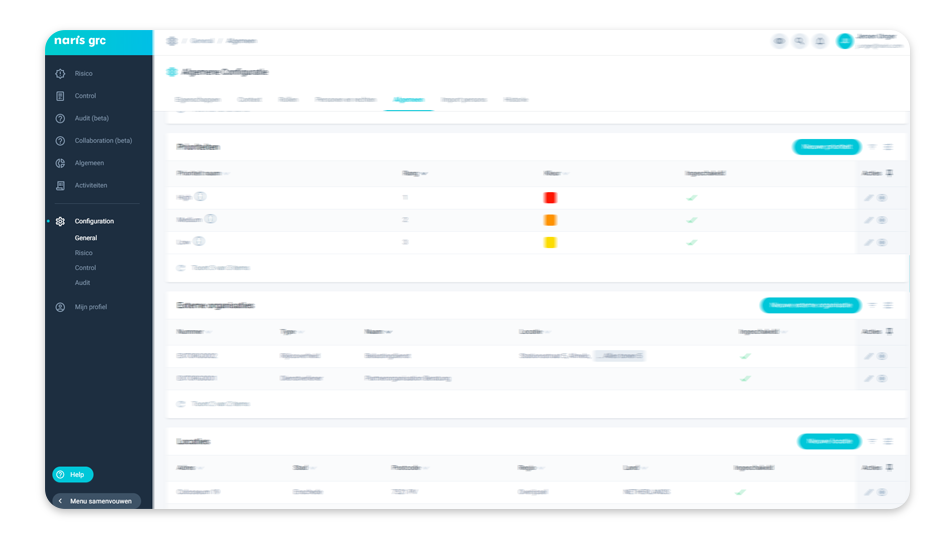 Linking Risk Management to Strategy and Performance
Research shows that strategic risks are the main cause of problems for organisations. Meanwhile, according to this research, risk managers spend only 6% of their time on Strategic Business Risks. GRC software helps to visually link risks and risk appetite to strategy, making risk control part of daily management.
Try it yourself for 30 days free of charge, no strings attached