Risky Business
Improve your performance with NARIS GRC® software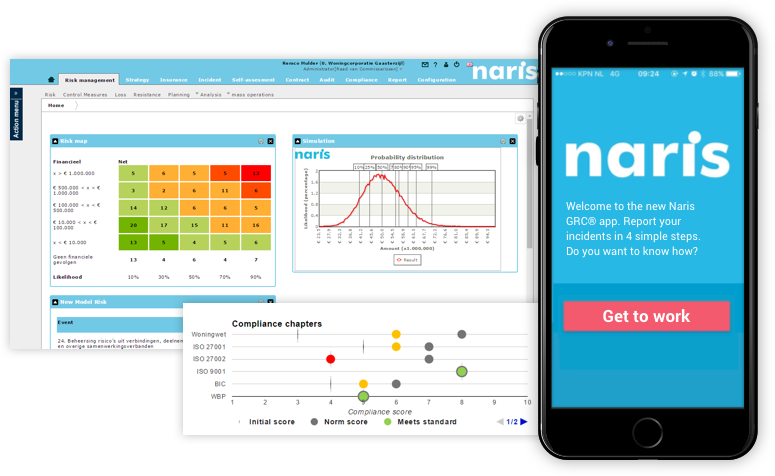 NARIS GRC® is a GRC platform that connects all GRC components within your organisation and enables comprehensive management reports.
GRC Platform
Risk management Software
Accessibility
Assessable to anyone with
own user rights.
Easy to compare
Benchmark information and
history own organisation
Timesaving
Flexible process organisation
and look & feel
Powerful software
To link audit & compliance,
within 1 system target
Noticeable, accessible and user-friendly
"NARIS GRC® offers a lot of possibilities when we want to add functionalities. It is accessible and user-friendly. Futhermore NARIS GRC® is very recognisable for our users because we practise the same terminology as internal organisation. NARIS GRC® is close to the field."
Cyrille Wismans, team lead Risk, Van Oord Dredging & Marine Contractors
The system is easy accessible and user-friendly
"NARIS® Risk management contribute to the learning capacity of our company. Due to this we take advantage of lessons from the past. The benefit of the system is the connection with our own risk management processes and the level of clear agreements we made. There was no need to adjust our processes."
Agnes Pol, manager Finance & Control woningcorporatie Actium
Request a demo
We are anxious to show you the reasons why customers are so excited about our software!
Please fill in the form below and we contact you as soon as possible. You can choose between a live demo on location or an online demo.
Number 1 in the Netherlands
for over 15 years
number 1 in risk management software
over 15 years of experience
well-experienced coaches all over the country
That's why you should
choose NARIS GRC®!
GRC knowledge database & benchmark risk lists;
Risk management conform standards as COSO, RISMAN and ISO 31000;
Flexible processing: use of own forms and corporate design;
Create your GDPR proof data with NARIS GRC®
Integral risk management by modular expending options;
Effective and online reporting on management level;
To prevent unnecessary costs by proactive managing on control measures;
Licence for indefinite number of users.
Webbased
Accessible everywhere for all users
Knowledge base
Benchmark information and internal knowledge base
Customized
Flexible design of processes and look & feel
Integral
Connect objectives, audit & compliance within one system